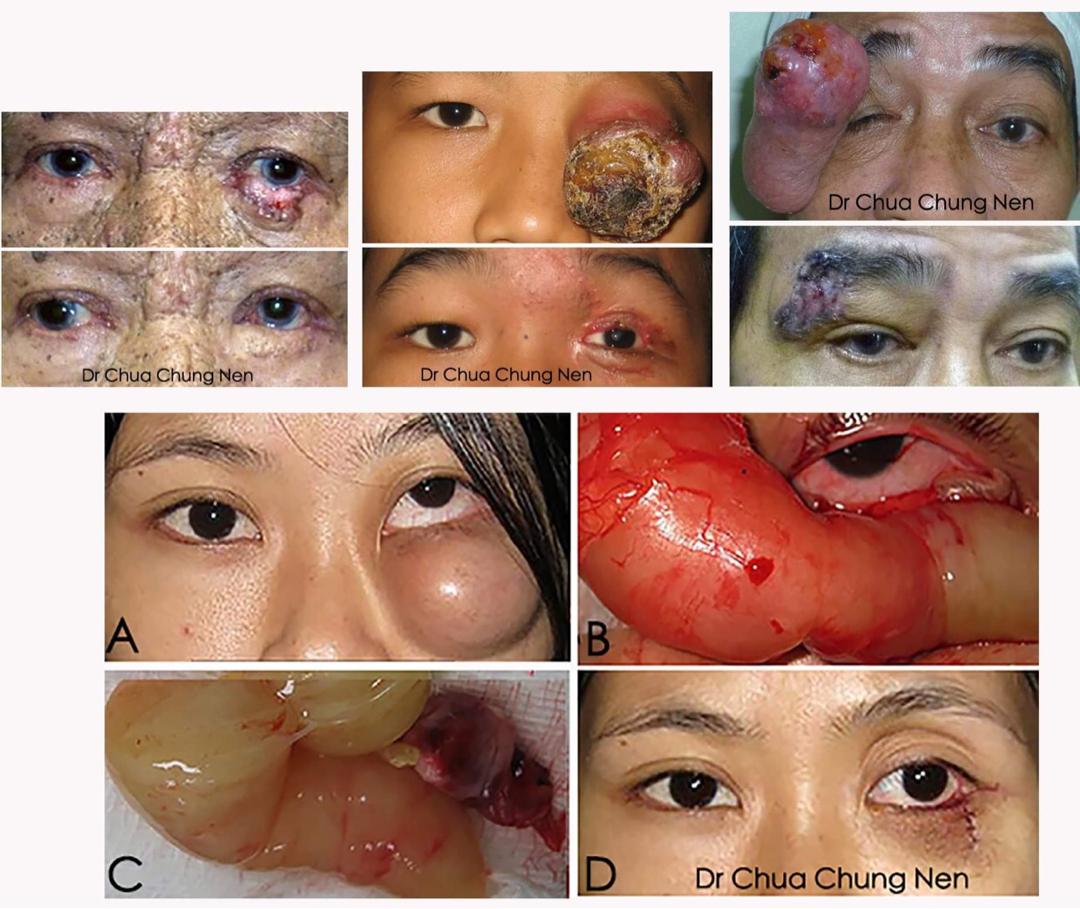 Eyelid tumour
Common surgery performed by oculoplastic surgeons: Tumour excision and reconstruction
Common surgery performed by oculoplastic surgeons: Tumour excision and reconstruction
Ophthalmologists that sub-specialise in eyelid surgery are known as oculoplastic surgeons. In addition to training in general ophthalmology, they need to do fellowships in well-known centres that specialise in eyelid surgery.
Growths of the eyelid can involve any structures. They can be benign (non-cancerous) or malignant (cancerous). Benign growths enlarge slowly but can affect the functions of the eyelid if left untreated. Malignant growths on the other hand expand quickly and cause destruction of the surrounding tissue and if left untreated can be life-threatening. Treatment for both types of growths is excision followed by reconstruction.
Dr Chua did his eye training in Oxford Eye Hospital (1997-2000) and did one year of eyelid training in South Thames Deanery, cLondon.
眼部整形外科医生常见的手术:眼皮腫瘤手术
从事眼睑(眼皮)手术专长的眼科医生也被称为眼科整形外科医生。除了接受一般眼科训练外,他们还需要在专门从事眼睑手术的知名中心进行訓练。
眼睑的腫瘤可以涉及任何组织。 它们可以是良性的(非癌性)或恶性的(癌性)。 良性生长缓慢扩大,但是如果不及时治疗会影响眼睑的功能。 另一方面,恶性肿瘤的生长迅速,并引起周围组织的破坏,如果不及时治疗可能会危及生命。 两种腫瘤的治疗是切除,然后重建眼睑。
蔡鐘能医生在牛津眼科医院接受眼科训练(1997-2000年),并在伦敦南泰晤士教务处进行了一年的眼睑手术训练。
#ESC #eyespecialisteyecentrekuching #kuchingeyelid #columbiaasiamiri #coljmbiaasiabintulu
#古晋眼皮手术
#美里眼皮手术
#诗巫国际眼科中心
#sibuisec
#eyelid
#ptosis
#眼皮手术
#双眼皮